Mesin Hitung Uang dan Pendeteksi Uang Palsu SECURE LD-26M
Mesin hitung uang adalah alat yang digunakan untuk menghitung uang secara lebih praktis dan akurat. Biasanya di butuhkan oleh Perusahaan-Perusahaan seperti Bank, Money changer dan lain sebagainya.
Kemajuan teknologi dan waktu yang efisien untuk mengerjakan banyak hal tapi secara lebih cepat dan akurat sangat di perlukan.  Oleh sebab itu alat Mesin hitung uang sangat di perlukan.
Selain menghitung lebih akurat mesin hitung uang juga dapat menghemat waktu dan lebih praktis.
Menghitung uang secara manual banyak beresiko contohnya seorang teller bank jika menerima uang dari nasabah dengan jumlah yang besar tidak menggunakan mesin hitung uang pastinya akan sangat menghambat pekerjaan dan waku yang tidak efisien, di samping itu jumlah uang yang di hitung terkadang tidak akurat.
Mesin Hitung Uang
Mesin penghitung uang juga biasanya di lengkapi dengan alat pendeteksi uang palsu.
Uang memang sangat di butuhkan dan dengan uang bisa di lakukan berbagai transaksi.
Tentunya kejahatan uang palsu sudah marak sekali di kalangan masyarakat luas.
untuk informasi detil spesifikasi dan harga produk, silahkan klik pada gambar.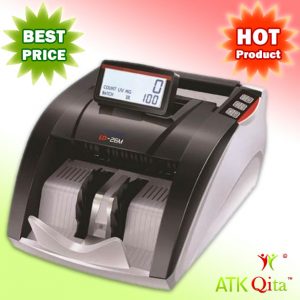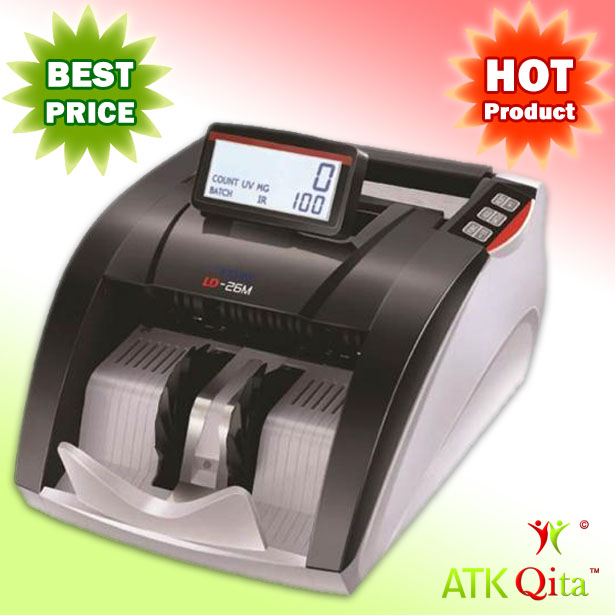 Video Mesin Penghitung Uang dan Pendeteksi Uang Palsu SECURE LD-26M

Description :
Portable Money counters designed to help quickly and precisely count money.
Easy to use and have UV and MG counterfeit detection.
Suitable for Multi-Currency : IDR- USD – EURO etc.
Features :
 Counting and Detecting Mode / Automatic detecting with UV and MG while counting
 Suitable for multi-currency: IDR USD Euro
 External Customer Display
 Adding Batching Presetting mode
 Auto / Manual Start Function
 Verification Method : UV-ultraviolet and MG
 Reliable : with UV to detect counterfeit bills
 Fast : counts over 1 000 bills per minute
 Comprehensive: suitable for most currencies in the world
 Large Stacker capacity: holds 200 bills
 Hopper capacity: 300 bills
Specification :
 Counting speed: max. 1 000 notes/min
 Banknote Size / Ukuran lembar uang: Max.90 x 180mm Min.50 x 100mm
 Hopper and Stacker capacity : up to 200 notes
 Power supply: AC220V – 50/60Hz
 Power consumption: Max. 70W on counting operation
 Racing noise :
 Counting display : 3-digit LED
 Batch display (External LCD) : 3-digit LED
 Batch Range: 1-999
 Unit Weight : 5.9 kgs
 Machine Dimensions (WxHxD) : 246 x 198 x 327 mm
Garansi produk 1 tahun termasuk servis dan parts.
 Free Ongkos Kirim Jakarta Only

 Cash On Delivery (C.O.D) Jakarta Only.
Persediaan terbatas, mohon segera hubungi kami.
WhatsApp : 0812 99 198 288