Description
Mesin Penghitung Uang dan Pendeteksi Uang Palsu SECURE LD-26M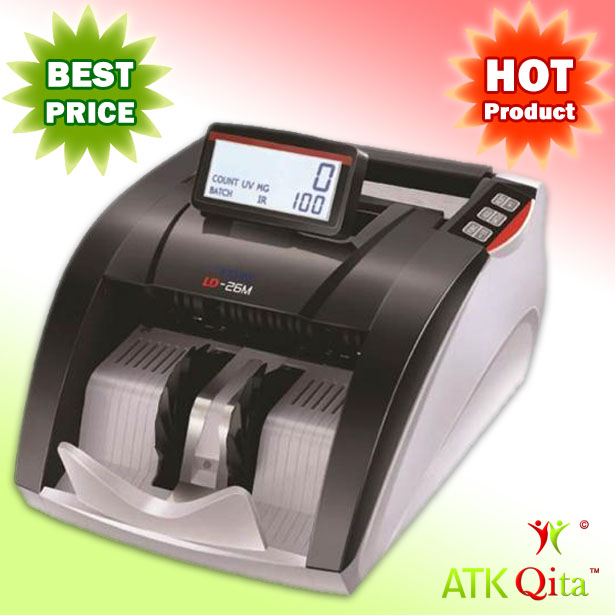 Mesin Penghitung Uang dan Pendeteksi Uang Palsu SECURE LD-26M
Description :
Portable Money counters designed to help quickly and precisely count money. Easy to use and have Ultra Violet (UV) and Magnetic (MG) counterfeit detection.  Suitable for Multi-Currency : IDR- USD – EURO etc.  
 Video Mesin Penghitung Uang dan Pendeteksi Uang Palsu SECURE LD-26M
Features :
 Counting and Detecting Mode / Automatic detecting with UV and MG while counting
 Suitable for multi-currency: IDR USD Euro
 External Customer Display
 Adding Batching Presetting mode
 Auto / Manual Start Function
 Verification Method : UV-ultraviolet and MG
 Reliable : with UV to detect counterfeit bills
 Fast : counts over 1 000 bills per minute
 Comprehensive: suitable for most currencies in the world
 Large Stacker capacity: holds 200 bills
 Hopper capacity: 300 bills
Specification :
 Counting speed: max. 1 000 notes/min
 Banknote Size / Ukuran lembar uang: Max.90 x 180mm Min.50 x 100mm
 Hopper and Stacker capacity : up to 200 notes
 Power supply: AC220V – 50/60Hz
 Power consumption: Max. 70W on counting operation
 Racing noise :
 Counting display : 3-digit LED
 Batch display (External LCD) : 3-digit LED
 Batch Range: 1-999
 Unit Weight : 5.9 kgs
 Machine Dimensions (WxHxD) : 246 x 198 x 327 mm
Garansi Resmi produk 1 tahun termasuk servis dan parts
Barang 100% Baru
Free Ongkos Kirim hanya area terbatas Jakarta.
Cash On Delivery (C.O.D) hanya area terbatas Jakarta.
Harga sewaktu-waktu dapat berubah tanpa pemberitahuan.
Sebelum memesan. pastikan spesifikasi dan ukuran sesuai dengan keperluan Anda.
Persediaan terbatas, mohon segera hubungi kami.
WhatsApp : 0812 99 198 288