Description
Mesin Absensi Kartu AMANO EX3500N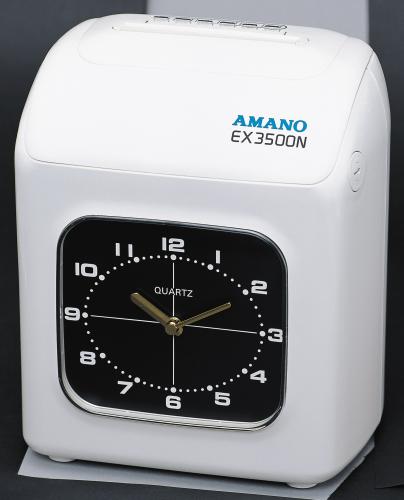 Mesin Absensi Kartu AMANO EX3500N
AMANO ELECTRONIC TIME RECORDER EX3500N (Mesin Absensi AMANO EX3500N)
merupakan Mesin Absensi yang paling banyak digunakan oleh perusahaan perusahaan di dunia. Ekonomis, Mudah digunakan, Bentuk yang besar dan kokoh merupakan alasan utama kenapa produk mesin absensi ini masih sangat banyak dicari dan digunakan.
Mesin absensi ini juga mempunyai Jam Quartz yang besar sehingga dengan gampang dapat melihat jam sewaktu akan melakukan proses absensi kehadiran. Dengan adanya mesin ini, maka tidak perlu lagi menggunakan kertas manual untuk mencatat absensi setiap karyawan sehingga dapat mengurangi error atau kesalahan baik yang tidak disengaja maupun disengaja oleh karyawan yang bertanggung jawab. Dengan menggunakan mesin ini, cukup dengan melihat kartu absensi, maka dapat dengan mudah menghitung kehadiran setiap karyawan.
Cocok untuk digunakan oleh pergudangan, restoran kecil, toko retail, internet cafe, kantor kecil.
Spesifikasi :
 Pita Warna : Merah Dan Biru
 Baca Kartu : Automatis
 Koneksi Bell: Ya
 Printing: Dot Matrix Printing
 Power Supply: 220/240VAC±10% (50/60Hz)
 Konsumsi Power: 220/240VAC
 Temperatur : -10˚C to 40˚C
 Kelembaban : 10% to 90%
 Dimensi: 190(P)×224(L)×127(T) (mm)
 Sistem Jam: Quartz
 Akurasi: ±3 detik setiap minggu(25˚C±5˚C)
 Berat: 2.3kg
 Penyimpanan Memori: Jam Dan Data Program akan tersimpan selama 3 tahun meskipun tanpa Power.
Garansi Resmi produk 1 tahun termasuk servis dan parts
Barang 100% Baru
Free Ongkos Kirim hanya area terbatas Jakarta.
Cash On Delivery (C.O.D) hanya area terbatas Jakarta.
Harga sewaktu-waktu dapat berubah tanpa pemberitahuan.
Sebelum memesan. pastikan spesifikasi dan ukuran sesuai dengan keperluan Anda.
Persediaan terbatas, mohon segera hubungi kami.
WhatsApp : 0812 99 198 288