Description
Brankas ICHIBAN HSX-70A Barcelona Neo Digital
Firesafe
NEW GARGOYLE GREY COLOR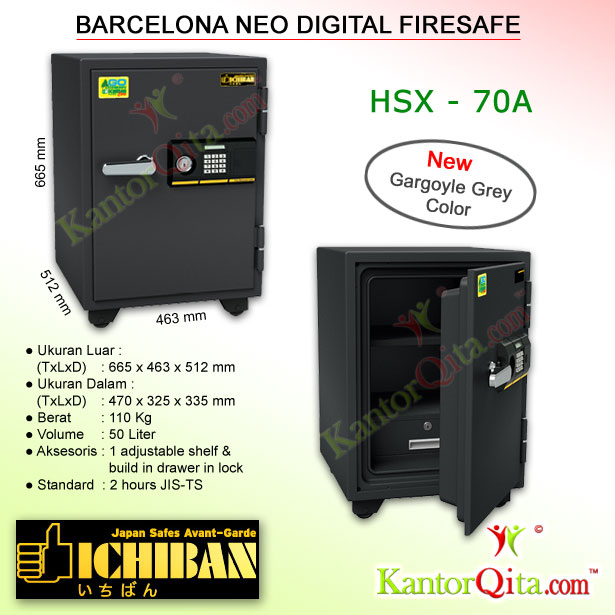 Brankas ICHIBAN HSX-70A Barcelona Neo Digital Firesafe
Features:
Electronic digital lock plus keylock for dual protection.
Japanese engineered high reliability LSI digital lock specially developed for our safe.
2 – 8 digit secret combination numbers can be changed by user whenever desired.
A low volt (DC 6V) safer safe.
Newest design well matched to any modern home and office.
Non copyable by standard technology dimple key for highest security.
Outside battery placement for easy and safe maintenance.
NEW POWDER COATED PAINT.
Scratch and rusty resistant.
Automatic re-locking device.
SPESIFIKASI :
Jenis : Neo Digital FireSafe
Tahan Api
Ukuran luar (panjang x lebar x tinggi) : 463 x 512 x 665 mm
Ukuran dalam (panjang x lebar x tinggi) : 325 x 335 x 470 mm
Berat : 110 kg
Kapasitas interior : 50 liter
Accessories : 1 adjustable shelf & built in drawer in lock
Standard : 2 hours JIS-TS
Kondisi Penawaran :
Barang 100% Baru
Pengiriman hanya untuk area Jakarta saja.
Apabila barang ready stock. maka lama pengiriman +/- 4 hari kerja.
Harga barang adalah Franco Jakarta untuk lantai dasar.
Apabila barang naik/turun lantai dan tidak ada lift barang, maka akan dikenakan biaya tambahan per lantai.
Pembayaran di tempat atau Cash On Delivery (COD)
Sebelum memesan. pastikan spesifikasi dan ukuran sesuai dengan keperluan Anda.
Persediaan terbatas, mohon segera hubungi kami.
WhatsApp : 0812 99 198 288