Description
Brankas DAICHIBAN DS-60A Tahan Api dengan Alarm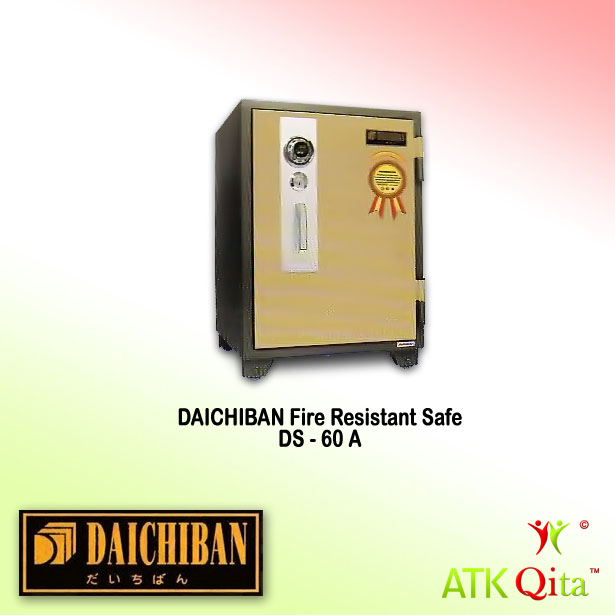 Brankas DAICHIBAN DS-60A Tahan Api dengan Alarm
Brankas Daichiban murah berkualitas
SPESIFIKASI :
Dimensi bagian Luar : 470 x 512 x 667 mm
Dimensi bagian Dalam : 332 x 335 x 472 mm
Berat Netto : 105 Kg
Berat Gross : 107 Kg
Kapasitas : 50 Liter
Fire Test Rating : 2 Hours
Accessories : 1 Shelf & 1 Drawer with Key
With 1 Key Lock & 1 Combination Lock.
Kondisi Penawaran :
Barang 100% Baru dan Original.
Free Delivery! Pengiriman hanya untuk area Jakarta saja.
Pengiriman luar Jakarta, akan dikirimkan via perusahaan expedisi/kurir yang murah dan bereputasi baik atau pilihan yang Anda percayai.
Apabila barang ready stock, maka lama pengiriman 1 – 5 hari kerja, setelah P.O atau pesanan diterima.
Harga barang adalah Franco Jakarta untuk lantai dasar.
Apabila barang naik/turun lantai dan tidak ada lift barang, maka akan dikenakan ongkos jasa tambahan per lantai.
Pembayaran di tempat atau Cash On Delivery (COD) atau Bank Transfer On Delivery (BTOD) untuk area Jakarta.
Sebelum memesan. pastikan spesifikasi dan ukuran sesuai dengan keperluan Anda.
Untuk informasi lebih lanjut, mohon hubungi kami.
WhatsApp : 0812 99 198 288